Ohana Bali Spa Massage we are professional therapeutic center in beautiful Kailua-Kona Hawaii integrates the best treatments from far away locales like Bali and Thailand. We present our magical treatments. Ohana Bali Spa specializes in traditional Thai massage, Balinese deep tissue massage, Kona Hot stone therapy, Hawaiian Lomi Lomi massage, reflexology, Swedish massages, professional therapeutic four hands massage and pregnancy massages. Balance, relieve tension and stress, energize and revitalize yourselves – physically and emotionally with Cool Lava Black sand Body Scrub package or Kaui Red Clay body wrap packages.
Rejuvenation with our mini facial massage variety of skin concern for your skin tighten feeling soft and youthful. For clients that are unsure of what treatments they need for their ailments, Ohana Bali Spa is happy to guide them. They're happy to take the time to study clients' habits and determine what level of pressure, temperature, and motion is best suited for their body's condition.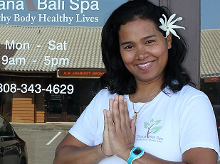 Yanee Easley
Designation: Therapist
Speaks: English, Thai, Japanese, Russian
Aloha,
My name is Yanee Easley, the owner of Ohana Bali Spa and licensed Hawaiian massage therapist. My knowledge of massage was taught to me by my mother's father. His expertise in Bali massage and Thai Massage the beautiful traditional healing touches he demonstrated inspired me to continue this ancient art form. It is my passion to follow my grandfather's footsteps and perform the most unique and pampering touches that is Ohana Bali Spa.
Easy Free Parking
Handicap Accessible
Kamaʻaina Prices
Central Air
Diffuser (aromatherapy)
Bridal Packages
Family Member Prices
Military Discounts
Senior Discounts
Testimonials
Mahalo Yanne. I don't know how I got so lucky and picked you out of all the massage therapists in town but I am so grateful and filled with Aloha that somehow I found you. Can't wait for my Mother's Days special on Tuesday! Ah… I feel good! – Pamela Mason
I have been to Ohana Bali Spa twice and it is an exceptional spa and treatment center. The massages that I have had have been superior too any that I have had before. The center is immaculate which is very important to me. The owner and her staff are very professional. You are treated to something very special and unique.i would personally rate it in the top of spaing. – Victoria Bussell
I have been suffering with Haglund's where I can hardly walk I went in for a massage, what some of us don't realize is, a massage is not just for luxury it also helps heal a lot of problems. I can walk better I got blood flowing good now Also I have had bad headaches, amazing Yanee knew I was in a car accident and the scar on my head is what the problem is "scar tissue" I am going to continue to get massages from Yanee for this was the first time in my 61 years of life. I feel like I am 40 – Emily
When I first visited Ohana Bali Spa, I couldn't move my neck from side to side. Now, I can move my neck in all motions and can even participate in activities that I love like hiking! – Danny Richmond
I used to get back aches from riding my horse and Ohana Bali Spa changed my life! Their trained specialists helped relieve my pinching muscles and teach me how to avoid back tension in the future. – Lisa Evenson
Read more testimonials from our amazing clients
We love nothing more than to provide the absolute best healing services possible
BOOKING POLICY
Please Read Prior to Scheduling Services
Please do not request an appointment online if you are planning 3-4 people to show up at the same time for the appointment. We are in challenge finding qualified massage therapists to provide services. If you book an appointment and do not show up for the appointment after having been confirmed by Ohana Bali Spa for your appointment, your card will be charged 100% of the scheduled service fee.