Massage Kona Big Island Hawaii
The following massages are customized for your specific needs and treatments are sure to re-balance the mind and body. Select from 60 minutes, 90 Minutes, or 2 hour. Enjoy the ​experience; spa body and massage treatments are among the most relaxing, therapeutic, and luxurious in Kailua-Kona Hawaii! Enjoy a complimentary warm shower after any of your spa therapy or massage treatments.
* We use high quality essential oil products with all of our treatments. These products are also used at the Sheraton, Hilton, and Four Seasons hotels.
* Price of service does not include gratuity. A minimum of 18% is recommended and appreciated.
* Prices are subject to Hawaii GE Tax.
* All bookings are subject to our Booking Policy.
"Lehua" Hawaii Red Clay Body Wrap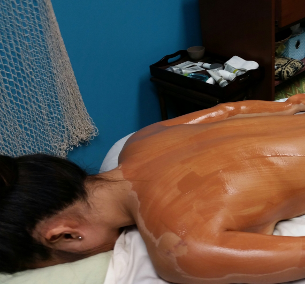 Hawaiian Red Clay Massage is all natural fine red colored clay originating from Hematite Iron. The red color is due to the copper oxides in the rock. The clay powder features excellent absorption properties great for drawing out impurities and toxins from the skin, while toning and firming, and stimulating circulation revitalizing, exfoliating, and cleansing properties.
Hawaiian Red Clay rejuvenates dry, damaged, and aging skin by stimulating deep pore cleaning, exfoliating and improving skin tone. Leaving skin feeling clean and radiant promotes cleaner and smoother skin by drawing out harmful toxins, dead skin, and impurities. In addition, Hawaiian Red Clay stimulates tissue repair for completely revitalized skin, this clay is rich in kaolinite, illite, montmorillonite and calcite and does not contain any additives, fragrances, or animal products. Great for normal, combination and oily skin types. Hawaiian Red Clay can be used to soothe irritations, sunburns, muscle pain, and even relieve arthritis.

Balinese Deep Tissue Massage
In this authentic massage style of ageless tradition, your therapist applies Indonesian floral oil. This massage focuses on the deeper layer of muscle tissue, which releases chronic patterns of tension and pressure with a stroking technique to improve blood flow and create waves of relaxation.
A deep tissue massage helps loosen muscle tissues, releases toxins from muscles, allows for the proper circulation of blood and oxy​​gen, and improves posture, mobility, and well being.
Thai massage focuses on clearing negative energy. Unlike many other massage modalities, Thai massage is consists of deep rhythmic pressure aims to relieve joint and muscle pain through a series of stretches using your entire body. A trained Thai massage therapist stretches a person with specific, assisted yoga poses, while the provider manipulates your body in certain ways to stimulate organs and improve flexibility.
We recommend choosing 90 mins massages for this type of massage.
All our massage treatments and body treatments are therapeutic. At Ohana Bali Spa we professionally perform Thai massage as therapeutic massage- this is a non-sexual treatment.
Hawaiian Lomi Lomi Massage
A Restoring massage that embraces various techniques and body stretching to achieve a deep therapeutic effect to reduce stress and improve circulation and joint mobility. This massage is ideal to relieve muscular tension and mental fatigue, while soothing the body, mind and spirit. This traditional Hawaiian massage is a sacred healing art handed down from generation to generation. Techniques are rhythmic. A truly traditional island experience!
Relax and restore your vital energy with a wonderful, soothing, and relaxing whole body massage. Tension and accumulated stress will vanish with each long, smooth, gliding stroke while loosening tense muscles and improving circulation and mobility.
"Pohaku" Hot Stone Massage
Benefit from the heated, smooth, Hawaiian stones for a full-body therapeutic massage with massage oil gliding to melt tension. The therapeutic touch will take you to a state of heavenly relaxation, balance, and rejuvenation. A deep, warm therapy nurturing massage with soft, round rocks will relieve sore and tense muscles. Warm stones are placed along your spine and on the "chakra" centers of the body.
Aromatic essential oils prepare your skin to receive long, soothing strokes, deep cross fiber techniques, reflexology and acupressure massage are all used in a grounding ritual that will bring a sense of inner peace. (Not recommended for sensitive skin or for people with high blood pressure or diabetes).
To take care your feet means to "Take care of your soul". Aromatherapy Black sand scrub and warm Seaweed mask are used for hands and feet followed by a dynamic treatment which works by applying thumb, finger, and palm pressure to reflex zones of the feet which correspond to organs and systems in the upper body. Experience general relief from pain, illness, and stress.
This therapy is particularly beneficial in treating tension headaches, poor circulation, and a sluggish digestive system and induces a calming effect and reduces stress in the body, mind, and spirit. Excellent for expectant mothers!
Time to take care of mom to be. This nine-month journey of nurturing is a special time, connecting with the mother through the power of touch, working with two heartbeats as one. Tried and tested safe pregnancy massage techniques adapted to each stage of pregnancy. Specialized positioning is used to ensure the ultimate experience in comfort and relaxation.
Cool Lava Black Sand Body Scrub
Ohana Bali Spa's signature body scrub treatment begins with an aromatic, organic product consisting of Cool Lava Volcano black sand that were found in Polynesian lagoons and islands. Micro-fine black sand derived from cooled lava gently exfoliates dull, dry skin and deeply hydrates for visibly smooth, radiant skin.
With this treatment your dead skin cells are gently sloughed away and the body and mind soothed. Unwind into exotic harmony with coconut oil applied.
Customize facial deep cleansing, Active aromatherapy facial for women and men. Essential Skin Care is a family of skin care products designed to maximize the natural power of essential oils in helping to keep your skin feeling and looking young, healthy, and gorgeous. Treatment will help relieve stress and increase oxygen from the skin cells repair and heal promote balance for combination or all skin types. Followed by Organic Seaweed face mask with natural moisture ingredients help to revive dull, lifeless complexions reduces signs of aging. Finishing with tightening serum natural tightens and smooth skin with Frankincense, Hawaiian Sandalwood and Myrrh.